The past few weeks, a question has been swirling around in my head: what kind of mother do I want to be?
Maybe it's the shocking realization that our little boy will arrive in eight weeks (or less - I'd be ok with a week or two early...). It may be due to the surge of goal planning and vision casting that surrounds the New Year - and realizing this year will introduce me to a new role I've never played before.
I don't want to fall into motherhood, without vision, or ideals, or purpose. Regardless of how a baby is conceived, women have nine months to prepare for their new position in life: mother. Fortunately, women also get a bit of a break in the first few months of their child's life, when the most important thing is keeping the kid alive, clean, and fed.
This week I finished reading Meeting Motherhood, a new e-book by Nicole Joelle (you can download the book, along with free Scripture printables, at the Meeting Motherhood website). I've been following her blog for the past few months and was excited to read her motherhood story, which started at week 28 of her pregnancy and went to her son's six month birthday. She shares her heart honestly about the physical and emotional changes and challenges in becoming a mother. I needed to hear her story, as I'm entering that same phase myself.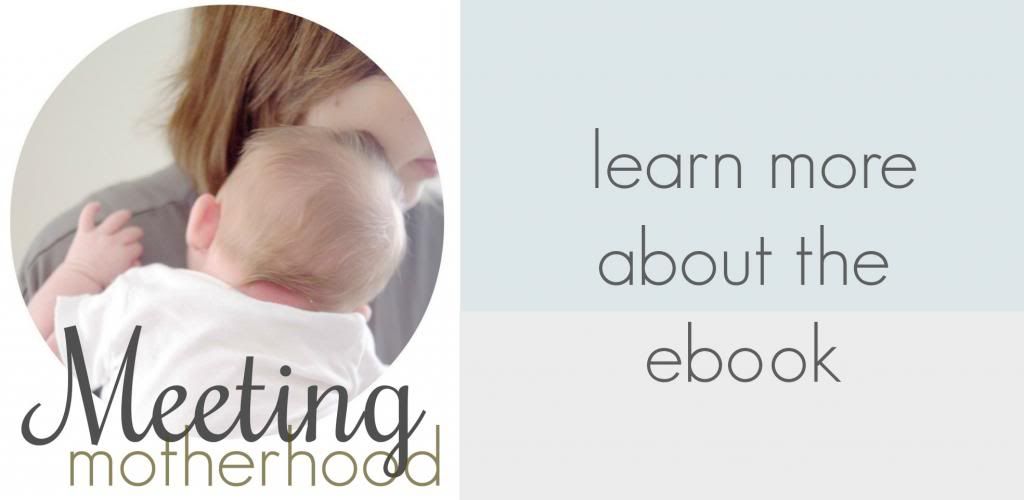 I laughed at all the same pregnancy problems she wrote about that I am experiencing now, then sobered up as I read about the first few draining weeks of motherhood.
I am in for some big changes. How I will react to them?
Maybe being a mother is just an extension of who I am as a woman. If I am a woman who loves Jesus, speaks life into people's lives, and trusts in God's control over the world, that affects how I will parent my child and how I shape their view of the world and of God.
This is who I want to be as a mother:
I want to model repentance to my kids - towards God, my husband, and my kids.
I want to encourage them to pursue their dreams, not my dreams.
I want to raise them open-eyed to the world, not in a bubble.
I want them to respect and love their father, because they see how I do.
I want them to hear words of life, not shame or condemnation, coming from my mouth.
I want them to know being their mom is my dream - they don't get in the way of my dreams.
I want to be a mom who sees Jesus as her only hope - not being more organized, creative, fashionable, disciplined, or a person who has awesome well-behaved kids. Those things aren't my ultimate hope; they don't give me status. Jesus alone is my hope, and my identity and worth is wrapped up in what he did for me. Clinging to that hope as a mom means my kids won't make me their idol.
Jami Nato said in an Influence Network recording, when moms react in embarrassment or shame when their kids act up, they're telling their kids - You should be making me look good, but you're not; shame on you. It teaches their children to view them as their god. But that's not our role as moms. We should tell our kids, That grieves the heart of Jesus - your attitude and your disobedience is pushing you away from the Lord.
I know motherhood has already begun for me. In the first year, it will less what I say to my son and more how I respond to exhaustion, frustration, and helplessness. Who or what will I run to for comfort when I am at the end of my line? Where will I seek stability when the baby's schedule throws mine out the window? Where will I look for my problem's solutions when I have no idea what the answer is? Will I check out of reality or run to Jesus?
I want to be a mother who runs to Jesus
- when she comes to the end of herself, her strength, her knowledge, her abilities, she doesn't just throw up her hands in defeat or go looking for a human answer. She clings to the Word and to God's promises and says,
God, I trust in you, and I know you won't abandon me.
Disclosure: Nicole sent me her e-book for free in exchange for an honest review, which I have given.